Dig Diary 25: Wooden Objects
April 11, 2016
The Importance of Wooden Artefacts
The Must Farm excavation has been running for just over seven months now and this week saw us recording our 2000th piece of wood. It feels like a rather important milestone but in all likelihood there will be at least another 2000 pieces still to record and remove. It is a pretty staggering number for an excavation less than 25x40m in size. Therefore, wood makes up a very significant portion of the site's assemblage and is giving us some incredible, and unprecedented, insights into Late Bronze Age objects.
Traditionally wooden objects are not regarded with the same degree of attention and interest that more immediately recognisable and visually striking objects are. Complete pots and metalwork usually grab the most attention and often form the basis for many displays and presentations on the Bronze Age. This issue is furthered by the rarity of surviving wooden artefacts from this period. It is uncommon for wood from close to 3,000 years ago to survive to be recovered, given the rarity of favourable preservation conditions.
Wooden objects are known from the Bronze Age, but examples are infrequent and in varying degrees of completeness and condition. There are roughly a dozen or so axe hafts from the Late Bronze Age from Britain and within that small sample, there is an enormous degree of variation in their construction. Similarly, only three Bronze Age wheels have been found in Britain, although more have been excavated on the continent. Very few sites have large assemblages of wooden objects and those that do, often have difficulties with these items' context.
The nearby Flag Fen has a similar assemblage of Bronze Age wooden artefacts, however these objects were found out of context and do not seem to reflect a use assemblage. Many of these artefacts may have been ritually deposited and others are damaged or incomplete. The only other prehistoric site with a large collection of wooden objects is Glastonbury Lake Village. However that is a later, Iron Age site and was excavated over a century ago with limited archaeological techniques.
Therefore, the wood assemblage from Must Farm is something of an important exception in the British Bronze Age. It is a well preserved site, being excavated using modern techniques and utilising current scientific analyses. We are finding one of the largest and most complete collections of wooden artefacts within their original domestic setting. Analysing and examining these objects will help us to get a far more complete insight into the frequency and use of wooden tools in Bronze Age homes, which is a fantastic archaeological opportunity.
Wooden Objects at Must Farm
Now that we are beginning to excavate more of the occupation material from the stilted roundhouses we are finding wooden artefacts fairly regularly. Many of these are items with parallels from other excavations: they are not unique or particularly exceptional. Wooden buckets are reasonably well known in Britain, but often they are found isolated and broken at the bottom of deep, waterlogged pits.
However, even if some of the wood we are finding isn't unique, the amount of objects that we are finding is unusual. We have already found several buckets, also known as two-part vessels. These containers are made from hollowing out a section of log before inserting a base into the bottom of the log: creating a container. Alongside these finds we are also discovering a number of wooden "platters", large and broadly flat objects carved from a single piece of wood. Even more exciting, many of these platters and buckets still have traces of residue on which can sampled, providing us with information on how they were used.
More commonly found artefacts such as buckets, bowls, platters and axe hafts form a fairly large part of the assemblage at Must Farm, but it is still worth noting that these objects are anything but routine discoveries from Bronze Age sites. Yet, we are even luckier as we are finding extremely rare and, sometimes, even unique wooden artefacts too. Aside from the roundhouse superstructure that we have from five buildings, something unknown anywhere else in the UK, we have some amazing, delicate items too.
Perhaps the most immediate and exciting of these is the small wooden box that emerged in February. To our knowledge, this delicate object is unique in British Bronze Age archaeology and would have required a relatively high degree of carpentry skill to create. This is a complex object made using a high degree of care and experience that resulted in a beautifully finished item.
Equally the wheel, which is the most complete example discovered in Britain, demonstrates a high degree of craftsmanship. It is currently the only object on site with more complex jointing used in its construction. The wheel is held together with shaped bracers fixed in place using dovetail joints, a technique less common during the Bronze Age. We know from this object that the technology existed to manufacture these more complicated joints, yet they were rarely used. Was this simply because they weren't needed in most situations if a simple mortise and tenon joint would suffice?
This division of wooden objects into those with a relatively high degree of workmanship and much more "rough and ready" examples is particularly interesting. It suggests that the more unusual objects could have been crafted by individuals with more specialist experience, perhaps people who worked wood on a regular basis. By contrast, bowls, buckets and platters are much more everyday objects and seem to have been roughly crafted. It is possible the skills needed to make these much more essential, day-to-day items were common to most people in the Bronze Age. A specialist woodworker wasn't needed; only when a more aesthetic or specific object was required.
The relative rarity of Bronze Age wooden artefacts is particularly challenging for us. We are finding objects that we aren't currently sure what they are! While many are similar to examples found elsewhere, it is unclear what purpose they would have had. This is creating a really fascinating scenario where we have to simultaneously record artefacts while attempting to understand their function. It is a challenging and tricky process that is really testing our wood specialists!
However, the completeness of the wooden assemblage and its domestic setting within a preserved settlement is another piece of amazing fortune. We are very lucky to have so many of these artefacts that rarely survive 3,000 years, let alone being deposited alongside the rest of the material from the houses. Even though we are encountering difficulties in understanding the exact purpose of some of these wooden objects, the very fact we are recording and conserving them will provide a new set of artefacts for Bronze Age archaeologists to examine and interpret.
While, wooden artefacts might not have the immediate "wow factor" that metalwork or immaculate pots may possess, their value to the excavation simply cannot be underestimated. The survival of so many different types of these fabulous finds is another element that makes the Must Farm excavation so important to understanding the British Bronze Age.
---
Related stories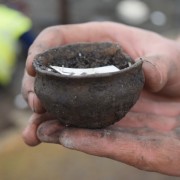 Dig Diary 27: Pottery
April 25, 2016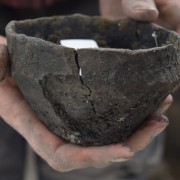 Dig Diary 26: Exploring Inside a Bronze Age Home
April 18, 2016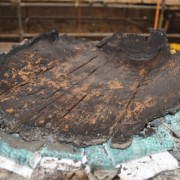 Dig Diary 25: Wooden Objects
April 11, 2016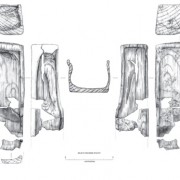 Dig Diary 24: Visualising the Site
April 4, 2016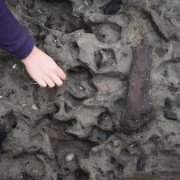 Dig Diary 23: Footprints and Posts
March 28, 2016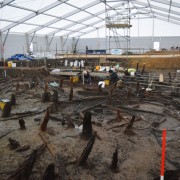 Dig Diary 22: A Tour of the Excavation: Part Two
March 21, 2016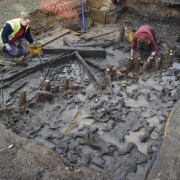 Dig Diary 21: A Tour of the Excavation: Part One
March 14, 2016