Dig Diary 26: Exploring Inside a Bronze Age Home
April 18, 2016
Looking Into Roundhouse One
Archaeologically, the Must Farm settlement is a phenomenal discovery. Since we first realised we had five roundhouses we always knew that the excavation was going to help refine our current understanding of Bronze Age life. However, it was hard to believe just how fortunate we could be. Not only did we have such good quality material to work with but it was still within its domestic context. Even more exciting was the prospect we could answer questions that people have only been able to guess at for decades.
Finding a typical Bronze Age roundhouse during a commercial excavation usually yields vastly different structural remains than those we have at Must Farm. At the vast majority of dryland sites, all that remains of these 3,000-year-old houses is a small ring of posts only a few centimetres deep. Usually only the outer postholes survive and the interior is a blank area where little-to-no evidence can be recovered. Similarly, most of these structures were abandoned and most material was removed, leaving only a few pot sherds, fragmentary animal bones and possibly a segment of broken quern behind.
Equally, any of the material left behind is usually deposited in a series of refuse pits or midden dumps. Typically, it is hard to determine the lifespan of these pits and they are often a mixture of very different sherds that have been dumped over long periods of time. In a settlement context it is also largely impossible to tell which home, or homes, the material came from. The lack of knowledge about what activity was going on within Bronze Age homes and critically, where in the house, this activity was taking place is also a significant limitation. While many have theorised about the spatial use of houses in prehistory, there is a very real chance we'll be able to see direct evidence of it at Must Farm.
The unique preservation conditions that led to the survival of everything from textiles to the contents of pots demonstrates the completeness of the Must Farm assemblage. However, the objects we are discovering in the "occupation deposit" are not in situ. The fire which destroyed the stilt houses meant the interior contents of the structures fell into the water of the river below, before being capped by the more buoyant timber from the walls and roof.
While the artefacts are not in their "original positions" within the homes, we can be fairly sure that when we uncover them they have not moved far. Environmental evidence we are compiling suggests that the river beneath the houses was shallow and very slow moving. So, as the objects fell into the water, particularly heavy artefacts such as pottery and animal bones, they would have sunk immediately. This would mean they came to rest close to, if not directly underneath, their original location within the buildings. Even more lightweight objects such as textiles and small vertebrate remains do not seem likely to have travelled particularly far.
Therefore, we have the incredibly exciting prospect to be able to examine the spatial patterning of each one of the homes within our settlement. By examining the differences and similarities in the location of different groups of artefacts we have the tantalising possibility of locating where specific activities, such as food preparation, were carried out. The completeness and survival of the artefact assemblage, as a result of the fire, gives us a largely unique and privileged opportunity in prehistoric archaeology.
We are already beginning to notice some interesting groupings of materials in our first roundhouse, however we still have more of its occupation deposits to explore. As mentioned in a previous blog covering the "Formality" of the settlement, there is a distinct area of animal bones deposited within the southwest quadrant of roundhouse one. These bones are particularly interesting as they all appear to be lambs. Our current theory is that these could have belonged to joints of meat that were being stored in this area of the roundhouse: perhaps even being smoked.
While this is a relatively subtle detail, it is something which will contribute to a wider understanding of the homes across the settlement. Interestingly, there are currently no larger animal bones, such as cattle or deer inside roundhouse one. Instead these types of faunal remains are currently only seen scattered around the outside of the building, which gives us another glimpse into how material is distributed differently around the home.
Pottery and Roundhouse One
One of the most exciting elements of patterning we are currently encountering is the position of many complete ceramic vessels. In the northeast quadrant of roundhouse one we are uncovering whole pots of various sizes and styles, all within a fairly small area. The style of many of these pots is remarkably similar to examples recovered from the evaluation in 2006, potentially from a single potter. Is their grouping in this area suggestive of a cooking or food preparation area within the house?
Another interesting instance of patterning that we are finding in relation to roundhouse one is the material being deposited outside the building. Surrounding the structure is a combination of butchered animal bone and pot sherds. While we have mentioned this before, what is truly exciting is the implications this can in terms of understanding this structure. The broken sherds are likely to have come from multiple vessels which is not unusual. However, it is likely that all the vessels were deposited in the same places around this roundhouse. This differs from most Bronze Age landscape sites where sherds are spread across multiple pits and areas.
The fact that these sherds all came from a fairly small group of vessels is very useful as it allows us to do refit analysis. We can compare sherds and see if they can be pieced back together to form vessels, which can give as an idea of approximately how many pots were associated with each house during its lifetime. This has a variety of uses and when we know more about the chronology of the settlement from dating and other techniques, we can see how long a Bronze Age pot's lifespan might have been.
We can also make comparisons between the broken vessels outside the building and those from inside. As the ceramics from inside the house all would have been in use at the time of the fire, it is likely they come from quite a narrow time frame. Are the broken pots outside visually different and potentially earlier in date? Or are they the same as the ones from inside the house? Amongst the broken vessels what is the ratio between finer pots and more "rough and ready" everyday ceramics? There are always so many questions to ask, but the very real possibility we can answer them owing to the incredible preservation we are encountering.
While our exploration of the occupation deposit is still very much ongoing, we are already getting fantastic glimpses into potential spatial patterning inside the homes at Must Farm. So many questions remain to be answered. Will it be possible to see this patterning in the other houses? Will patterning be the same in each home and will it be aligned in the same direction? Is it possible some buildings may have unique materials inside? Over the coming months we hope to have answers to these questions, which would help to provide an unusually complete insight into Later Bronze Age life.
---
Related stories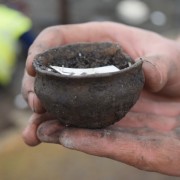 Dig Diary 27: Pottery
April 25, 2016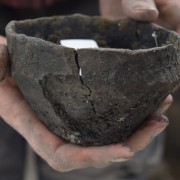 Dig Diary 26: Exploring Inside a Bronze Age Home
April 18, 2016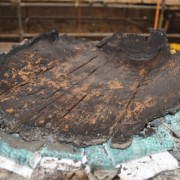 Dig Diary 25: Wooden Objects
April 11, 2016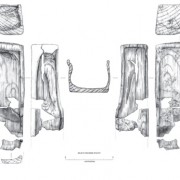 Dig Diary 24: Visualising the Site
April 4, 2016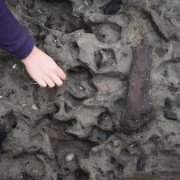 Dig Diary 23: Footprints and Posts
March 28, 2016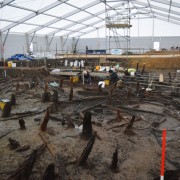 Dig Diary 22: A Tour of the Excavation: Part Two
March 21, 2016